Snacks
Combos Buffalo Blue Cheese Pretzel

Combos were a favorite snack of mine as a child. I loved the pizza flavored ones with a passion. So when I saw Combos Buffalo Blue Cheese Pretzels on the shelf I thought I'd get to relive the pleasant snacking experience of my past with a great new flavor. I was wrong. I love buffalo chicken wings dipped in blue cheese and the art on this bag is misleading. Of course its a pretzel snack and I wasn't expecting it to taste like the image on the bag, so I assumed the filling inside would be a nice buffalo taste with a hint of blue cheese in it. But that wasn't the case at all. I opened the bag and the smell was horrible. It smelled like raw blue cheese and not the creamy kind like on the bag. While thats not so bad, it did not smell right at all coming out of a room temperature bag.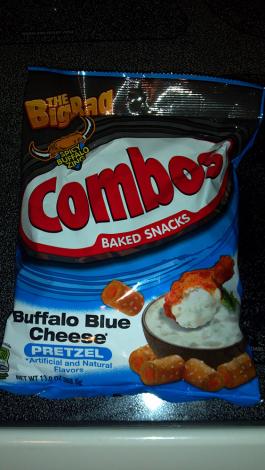 The inner filling is buffalo flavored and the blue cheese that was so poignant was actually a coating on the outside of the pretzel. When eating one of these the blue cheese flavor is the first taste that makes contact with your tongue. The first couple pretzels tasted fine, but as I continued eating them I realized the blue cheese flavor kept tasting worse and worse to me. As the inside of my mouth started to get coated with the aftertaste, I realized how disgusted I was getting and I had to stop. The blue cheese flavor coating is horrible. After a while it started reminding me of rotten cheese and the smell started disgusting me. The odor is so bad that people around me eventually commented about how horrible it smelled. I gave this snack a second try a couple days later. I opened the bag, caught the scent and basically I got revolted before I even put one in my mouth. After eating another 7 I realized I should have bought a small trial size bag instead. I had to give these away.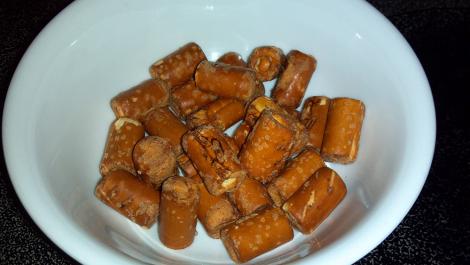 Should you eat these?
No! I'm a big fan of blue cheese and this flavor is disgusting. In fact, I don't think any snack maker has ever made a blue cheese flavor that tastes good to me. If you see these on the shelf, pass on them and pick up some of their pizza flavored pretzels instead.