Snacks
McDonalds Premium McWrap

I used to like McDonald's food. It was cheap, fast and filling. But as I've gotten older and tried more food I've realized how horrible McDonald's food actually is. I was one of the people that would eat their premium angus burgers. Ever since they stopped serving those and the Chicken Selects, McDonald's menu has not been appealing to me in the slightest. One of the few things I would still eat there are the crispy chicken McWraps. Even now I would still eat those. When I saw McDonalds had Premium versions I assumed it would be a better quality McWrap. In a sense it is, but at the same time it isn't.
The basic McWrap and the Premium McWrap are very different products. The largest difference is the size. These things are pretty big. However, like most new fast food items, they start large and then shrink in size over a couple years once people get hooked on them. These pictures were taken when they first came out which is why it looks as good as it does. These McWraps come in three flavors. I ordered the Sweet Chili. The package I received indicates that it is the Chicken Bacon flavor.. And once I started eating it, I realized I was eating the Ranch. So I suppose this can be a review for all three flavors because the incompetent employees had no idea what they were giving me or how to take an order correctly.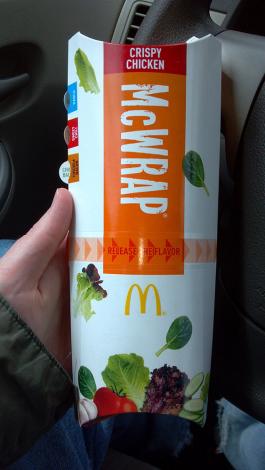 The package has a rip away tab that works nicely. I was quite surprised to see that the McWrap looked exactly like the picture on the drive through menu. I'm sure they won't look like that in the future considering I've never purchased a Big Mac that actually looks like the picture.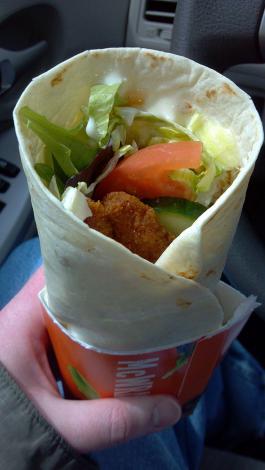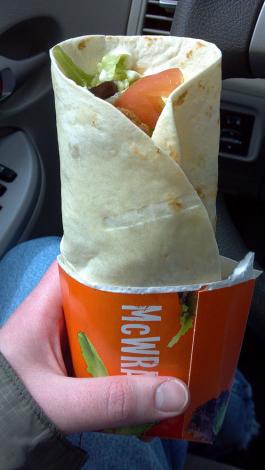 This McWrap has all the premium ingredients you would expect to see in a good salad and that is where the problem lies. This tastes like a salad. With ranch dressing, plentiful leafs, tomato and cucumber this is a full blown premium salad in a wrap. If anything, the chicken is the odd ingredient in it. Because my wrap was so fresh, the chicken was freshly fried and the wrap was assembled. However, they should let that chicken cool down a bit because a warm salad does not taste appealing to me. Hot cucumbers and tomatoes against a slightly greasy piece of chicken threw the experience off for me. While most of the ingredients are cool, the hot chicken causes temperature differences throughout the entire wrap. After eating one of these, I won't eat another. For the same price I'd rather buy 3 of the regular McWraps which are smaller and focus more on the chicken with no large salad ingredients.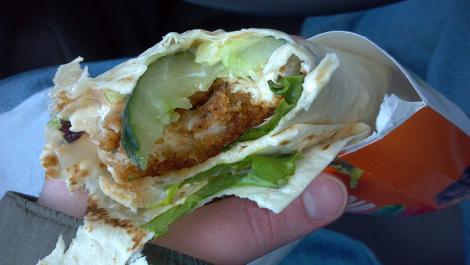 Should you eat these?
Maybe. It depends on if you like salad because this is definitely a leafy green filled item. If you do try one, I recommend ordering it with no cucumber as those hot cucumber slices did not taste appealing in texture.