Snacks
Lay's Chicken & Waffles

Lay's Chicken & Waffles is one of the three Lay's potato chip flavors available as part of the "Lay's Do Us A Flavor" contest. That contest has ended already and I'm a bit late in posting this review. Upon looking at this bag I thought to myself, "Ewww.. Denny's and KFC combined their flavors into what might be amazing chips!"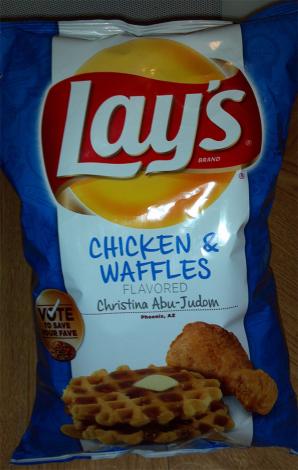 The chips are a darker yellow in color compared to regular Lay's. When opening the bag, the smell is the first thing that you notice. Maple Syrup, a very strong maple syrup smell. The flavor is also Maple syrup but doesn't taste like waffles or chicken in the slightest. Its more like pancakes and some seasonings that might be included in a chicken fry mix... But not chicken at all. Its a more meaty flavor because of how greasy the chips are. These were the most unique flavored chips I've ever eaten and not unique in a good way. The first couple chips are interesting to try, but after 5 or so you'll notice a greasy film starting to coat the inside of your mouth and tongue. After 10 chips I thought maybe something else I ate was affecting the flavor. So I tried again the next day after I got home from work.. Nope.. Disgusting. Another 20 chips in and I couldn't stomach them anymore.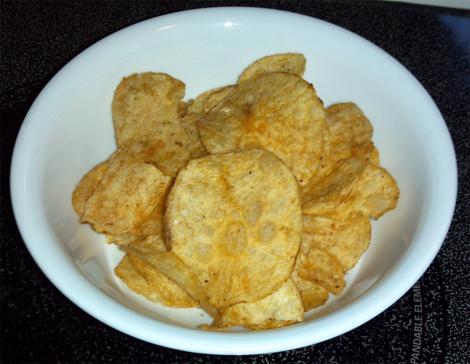 Should you eat these?
No. I'm glad these did not win the contest. Horrible chips. They reminded me of the failed Olestra Pringles. Not because of the flavor, but because of the possible side effects caused by eating them.
Olestra Side Effects:

Olestra sometimes causes underwear staining associated with "anal leakage."