Snacks
Kettle Brand Jalapeno Potato Chips

Kettle Brand Jalapeno Potato Chips are some of the best jalapeno chips available in stores. With that nice large red "Hot" pepper on the front of the package, I was expecting some good heat and these chips delivered.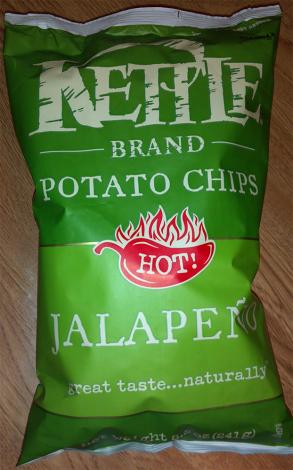 The chips are a nice gold color speckled with green jalapeno seasonings. But the flavor isn't just in those speckles, these chips are imbued with jalapeno flavor. After just a few chips you'll begin to notice the nice jalapeno burn sneaking up on you as an after taste. After about 5-10 chips you'll be approaching the full flavor profile of jalapeno perfection. Kettle Brand jalapeno chips are less salty and have less 'folded over' chips than other competing brands and that is what really sets them apart from the others. Every chip is very consistent with flavor and seasonings.
The only downside to these are probably that they are a bit greasy, just like all potato chips. But the packaging does a good job at grabbing excess grease and seasonings and keeping it all stuck to the inside of the bag, mostly at the bottom. This reduces the overall greasiness of the chips to be a bit less than a regular bag of Lays. If you really enjoy the flavor of jalapeno and want every last crumb and bit of grease, after you eat a bag of these, cut open the empty bag and lick the inside for a special treat of unhealthiness.

I actually did this once.. too much grease for me, but the flavor was very good.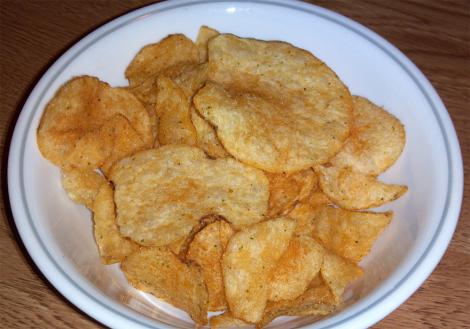 Should you eat these?
Yes! These are some of the best jalapeno chips you can buy. Expect some good jalapeno heat. These are hotter than Lay's Sriracha chips.