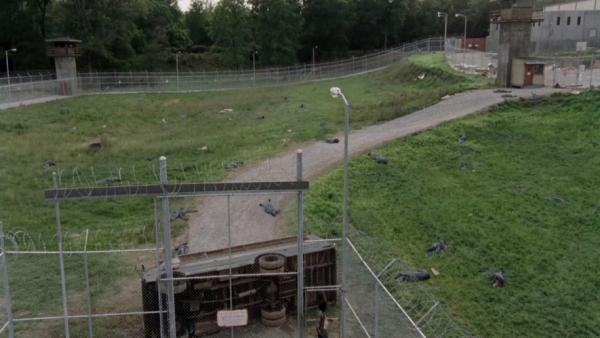 (Imagine the walker bodies are gone and corn is growing everywhere.)
The Walking Dead is set to start filming the much anticipated Season 4 in may. Since that is only a month away, an anonymous insider with their hands on the first episode has already leaked some unsettling information online.
There will be a time skip. Season 4 will start off with an over head camera shot of the prison field filled with crops and the words at the bottom of the screen: "1 year later". With the fence fixed and no immediate danger, everyone at the prison has settled in for the long term.

Unfortunately with Woodbury's elderly population now consuming resources at the prison, the only real action involving Walkers will happen because of the increasingly long distant runs the prison group will need to go on for medicine. Expect the show's pace to resume to that of Season 2 and involve a lot of internal squabbling because of the conditions everyone has been forced to live in to survive.
Wow. This does not sound like a good season... I guess AMC should have worked harder to keep show runner, Glen Mazzara on the team.
http://artsbeat.blogs.nytimes.com/2012/12/21/walking-dead-gains-a-new-season-but-its-show-runner-becomes-latest-casualty/
April Fools!