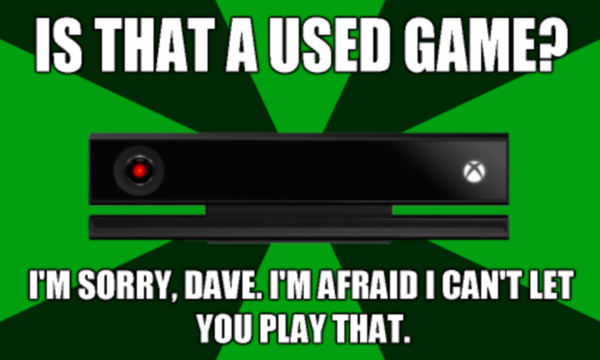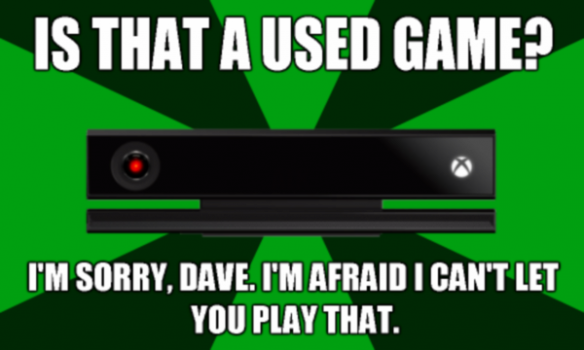 Microsoft seemingly squandered its chance to redeem itself at E3, and afterwards they only continued to shove their foot deeper down their own throat.
Will 24 hour check-in render games useless at the end of new generation?
http://kotaku.com/microsoft-we-wont-render-your-xbox-one-games-unplayab-513602148
"No one wants to buy a $60 Xbox One game to discover they just had it for a 10-year rental."
Microsoft dodges the "region free" question.
http://kotaku.com/microsoft-cant-tell-us-if-the-xbox-one-is-region-free-513494440
"For reference, the PS3 was completely region-free. The PS4 is as well. The PS3 even allowed different international accounts on the one system.The Xbox 360 wasn't locked at the hardware level, but some publishers chose to implement their own region blocks."
Xbox One's reputation system isn't troll proof.
http://kotaku.com/xbox-ones-reputation-system-sounds-crazy-but-it-just-m-513480515
"Each Xbox One game with an online component can include the ability to recognize griefing behaviors and react to them accordingly. Even if no one reports you for flagrant team killing or purposefully driving the wrong way in Forza, the games will know you've been naughty, and you could get dinged for it.There's potential there for hiccups and exploitation, but there's real potential here. It may strip players of their "right" to freely act like an obnoxious asshole online, but I'm willing to take the hit for the good of Xbox Live society."
Microsoft fails to sell possible positives for "Always Online"?
http://kotaku.com/a-slightly-more-convincing-reason-for-the-xbox-ones-fo-513295925
"Those worlds can live on in between game sessions", he adds, drawing a line under games that would make this an extra and those where it's part of the game itself, the world updating every day. "If one player drops out, that world will continue on and can experience the effects of time, like wear from weather damage, so that when a player comes back into the universe it's actually a slightly evolved place in the same way that our real world evolves a little bit from the time we go to sleep to the time we wake up. Game developers have given us incredibly positive feedback on the crazy different ways that they can use this incredible new cloud power resource."
Microsoft tells customers to buy a 360 if they don't want to check in online.
http://kotaku.com/cant-get-an-xbox-one-online-buy-an-xbox-360-512742247
"The 360 ecosystem is a great ecosystem for somebody that's in a purely disconnected state for long periods of time. We have built a natively connected device with Xbox One and we think the experiences are moving in that direction."