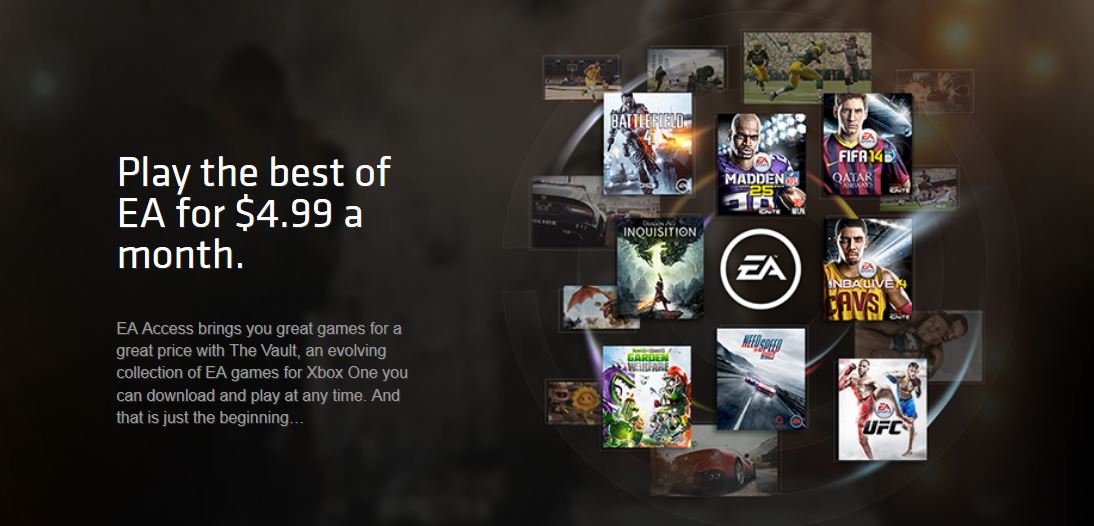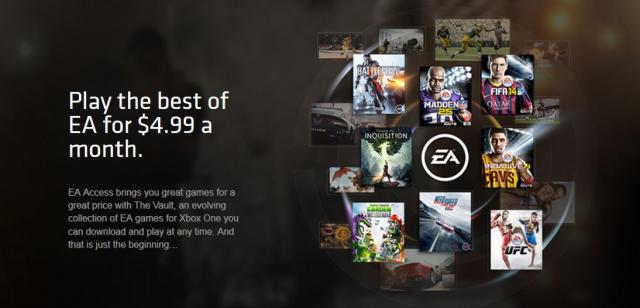 EA Access has launched for Xbox One. The subscription costs $4.99 a month or $30 a year and gives you access to a collection of EA games that you can download, install and play. It sounds like a good deal and it includes Battlefield 4 in the list of games you have access to. However, it looks like DLC is not included in the subscription and certain popular titles are strangely absent from the service, including Titanfall. The most interesting feature of EA Access to me is that many new EA games will be free for five days prior to the game launch as an early access feature. Those games would then turn off and would be available for digital purchase. I'm guessing EA will leave new games as digital purchases only for a year before adding them to their EA Access Vault. This also might be EA's way of making a hybrid Free to play style of gaming. You get the base game in the subscription, but the DLC will be EA's gold mine.
EA Access lets you play more games for less. Binge on EA's best Xbox One games, starting with Madden NFL 25, FIFA 14, Battlefield 4 and Peggle 2, with more to come in the future. That's more than $100 worth of games for just $4.99 a month. Play as much as you want, you'll never run out of fun.

As an additional perk, EA Access members get an exclusive 10% discount on EA digital purchases on Xbox One. Use your 10% discount on Madden NFL 15, Madden Ultimate Team, Battlefield 4, Battlefield 4 Premium, FIFA 15, FIFA Ultimate Team, EA SPORTS UFC, Need for Speed Rivals, Plants vs. Zombies Garden Warfare, Peggle 2 and NBA LIVE 14, with more titles coming soon.

If you're an EA Access member, you can download upcoming EA games five days before the release date to play for a limited time. Madden NFL 15, NHL 15, FIFA 15, NBA LIVE 15 and Dragon Age: Inquisition are all included, with more to come. If you love it, buy it, and you can pick up right where you left off.
Interesting enough, Sony has no interest in having the EA Access subscription on their network stating:
"We evaluated the EA Access subscription offering and decided that it does not bring the kind of value PlayStation customers have come to expect," a Sony representative told us via email. "PlayStation Plus memberships are up more than 200% since the launch of PlayStation 4, which shows that gamers are looking for memberships that offer a multitude of services, across various devices, for one low price. We don't think asking our fans to pay an additional $5 a month for this EA-specific program represents good value to the PlayStation gamer."
EA Access could be a good bargain depending on how well it works out. But then again EA is known for winning "Worst Company in America."
Sources: http://www.ea.com/eaaccess/ & GameInformer
Also, Kotaku has a good FAQ regarding EA Access:
http://kotaku.com/how-ea-access-will-work-according-to-ea-1616944110