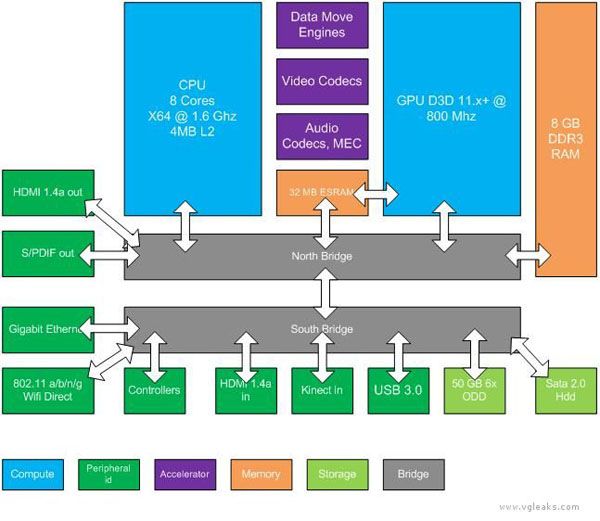 VGLeaks has unveiled the raw system specs of Microsoft's next generation console dubbed Durango. If these specs hold up, the next "Xbox" will have some remarkably impressive processing power at 1.2 teraflops (1.2 trillion floating-point operations per second). To put that in perspective; Xbox 360 is only measured in gigaflops. After the failure of HD DVD in the current generation, it is also a notable point that Blu-ray will be included along with 8GB of RAM, Wi-Fi Direct capability, USB 3.0 and HDMI 1.4a. Unlike the latest report for PS4, there is no news on the controller nor the previously rumored augmented-reality glasses.
Here is a full rundown on the specs:
CPU:
- x64 Architecture
- 8 CPU cores running at 1.6 gigahertz (GHz)
- each CPU thread has its own 32 KB L1 instruction cache and 32 KB L1 data cache
- each module of four CPU cores has a 2 MB L2 cache resulting in a total of 4 MB of L2 cache
- each core has one fully independent hardware thread with no shared execution resources
- each hardware thread can issue two instructions per clock
GPU:
- custom D3D11.1 class 800-MHz graphics processor
- 12 shader cores providing a total of 768 threads
- each thread can perform one scalar multiplication and addition operation (MADD) per clock cycle
- at peak performance, the GPU can effectively issue 1.2 trillion floating-point operations per second
High-fidelity Natural User Interface (NUI) sensor is always present
Storage and Memory:
- 8 gigabyte (GB) of RAM DDR3 (68 GB/s)
- 32 MB of fast embedded SRAM (ESRAM) (102 GB/s)
- from the GPU's perspective the bandwidths of system memory and ESRAM are parallel providing combined peak bandwidth of 170 GB/sec.
- Hard drive is always present
- 50 GB 6x Blu-ray Disc drive
Networking:
- Gigabit Ethernet
- Wi-Fi and Wi-Fi Direct
Hardware Accelerators:
- Move engines
- Image, video, and audio codecs
- Kinect multichannel echo cancellation (MEC) hardware
- Cryptography engines for encryption and decryption, and hashing
Check out the full details from CNet and VG Leaks below:
CNET: Xbox 720: 8 CPU cores of gaming power?