Instructions to make:
Lasagna
Serving size: 12+
Ingredients:
- 1 package of Lasagna noodles
- 2 1/2 pounds of hamburger meat (browned)
- 2 cans of pasta sauce
- 1 can of diced tomatoes
- 1 jar of parmesan cheese
- 2 eggs
- 1 1/2 - 2 pounds of mozzarella cheese
Instructions:
1) Gather your ingredients.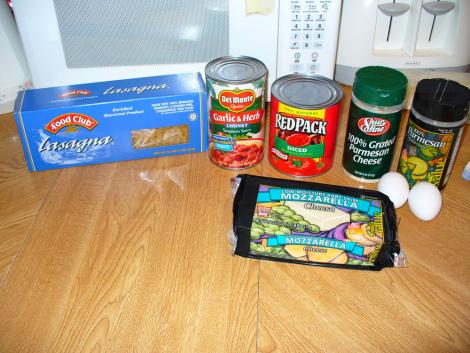 2) Brown your hamburger meat and strain it. I like to break the meat up pretty fine while it is browning. I don't like meat chunks too big in a lasagna.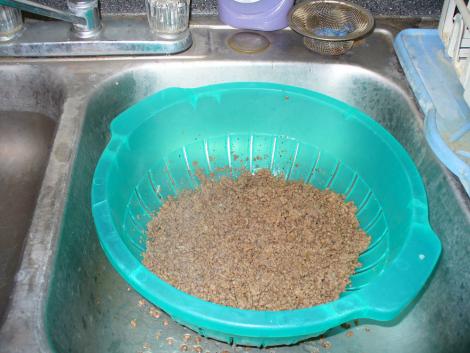 3) Start boiling your lasanga noodles as per the instructions on the package.
4) Use a mixing bowl and combine the browned meat, 2 eggs, 1/4 to 1/2 of your parmesan cheese, and diced tomatoes (strain the liquid from the tomatoes first).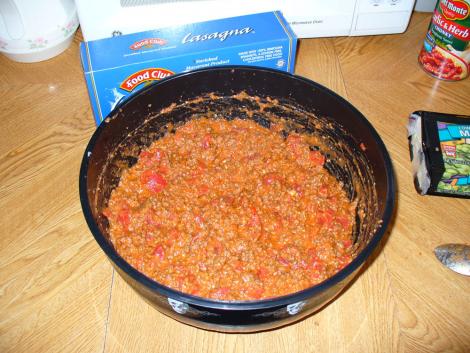 4) This sauce is thick and good for a single pan of lasagna, but I like it a but saucier so add another can of pasta sauce.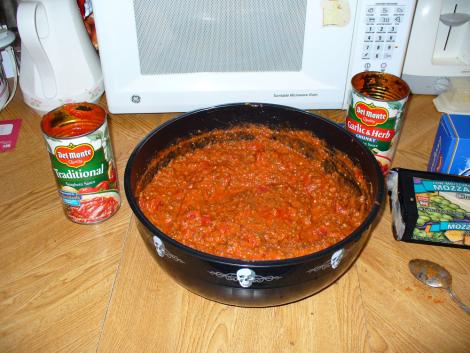 5) Don't overcook your lasagna noodles! If they are still slightly firm, good. Strain them and then place the noodles in layers on a plate in a criss cross pattern so they can maintain their shape while you are making your lasagna.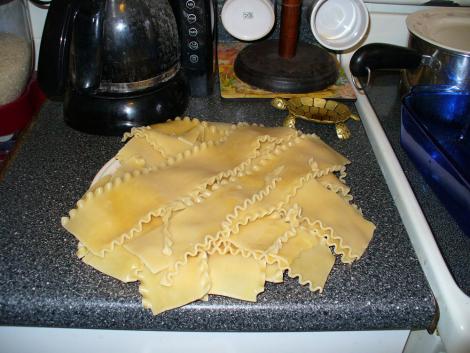 6) Lightly spray some pam or another non-stick spray on your bakeware so your lasagna does not stick to your pan. Also, start pre-heating your oven to 350 degrees.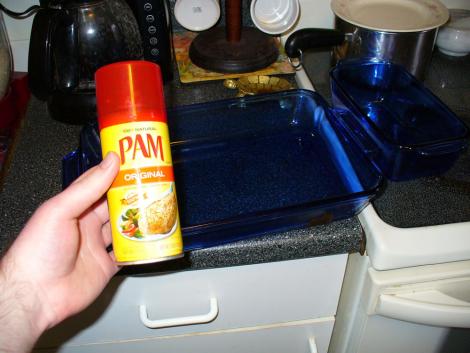 7) Start off your lasagna with a layer of meat sauce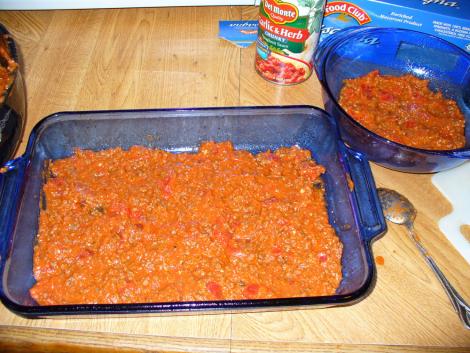 8) Then a layer of noodles. Then repeat with another layer of meat sauce and noodles.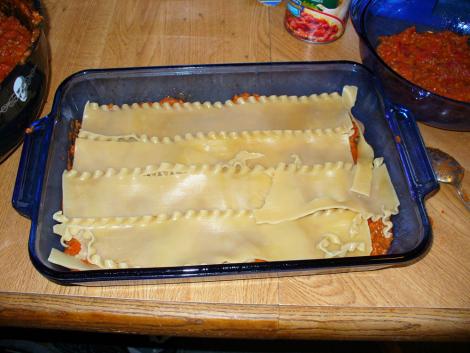 9) Usually around the first or second layer of noodles I add a layer of mozzarella cheese. You can use pre-shredded cheese, but like all pre-shredded cheeses, the little pieces of cheese are covered in a layer of wax, and that creates a greasy lasagna. So get a brick and shred it yourself or cut pieces that will melt in the oven. Also, layer some parmesan in there too if you want the extra cheese.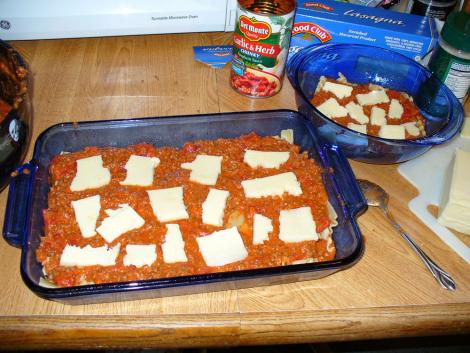 10) Keep repeating your layers until you get close to the top of your pan. If you have extra ingredients, make a second lasagna in a smaller pan like in these pictures.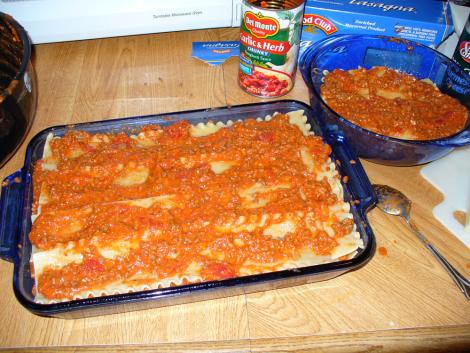 11) When you get to your top layer, finish off your lasagna with a light layer of sauce, generous amounts of parmesan and a generous amount of mozzarella.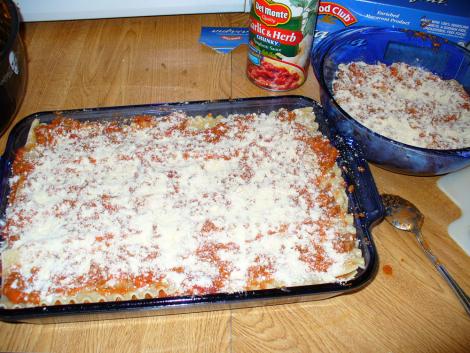 12) Now cover your lasagna with aluminum foil (this prevents your top layer of cheese from burning during the cooking process), wait for your oven to finish pre-heating and put it in the oven on the center rack for about 35 minutes.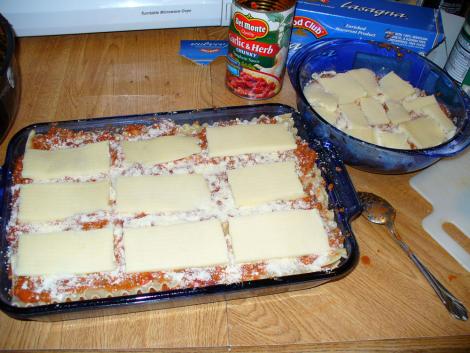 13) Take your lasagna out, take off the aluminum foil and it'll look something like this. Now put the lasagna back into your oven for another 10-15 minutes with the foil off to melt down the top layer.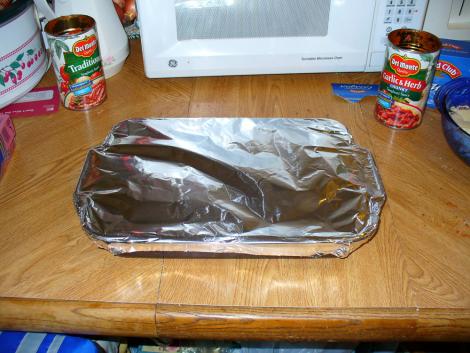 14) And the lasagna is done! If you have a good brand of mozzarella, cutting pieces usually works fine, but the store brand that I was using didn't melt perfectly, but you get the idea... its still incredibly tasty.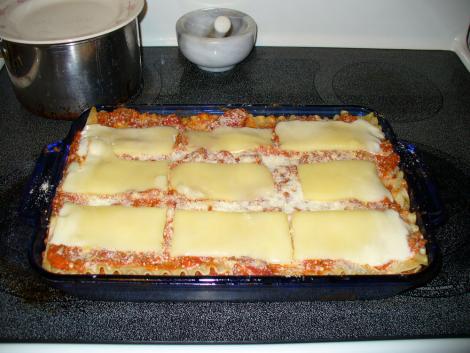 15) Let the lasagna sit for about 5-10 minutes to cool and solidify, then cut into pieces and eat!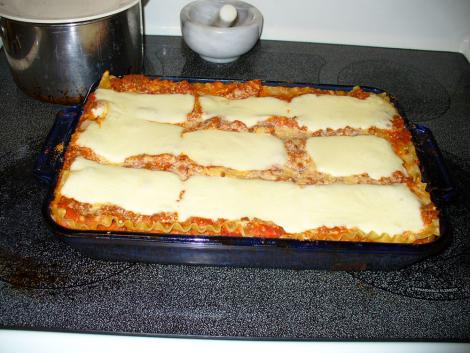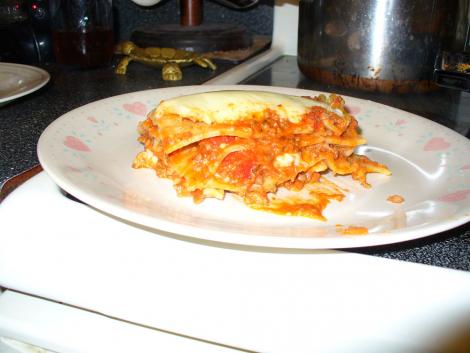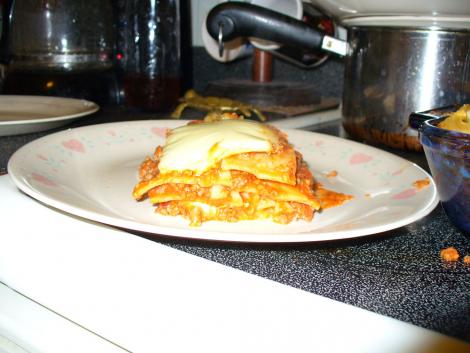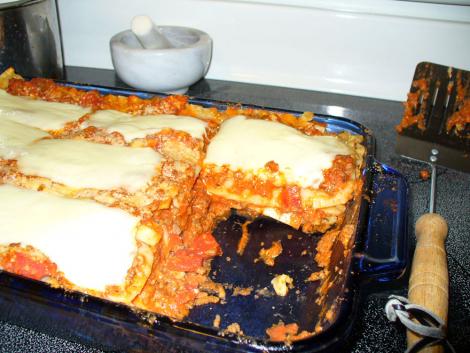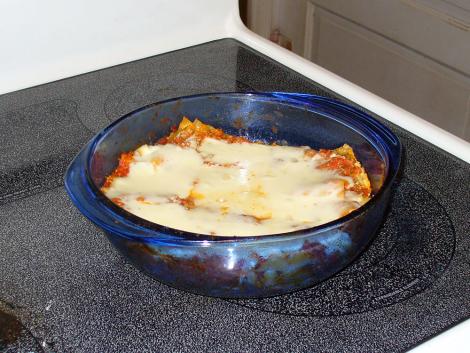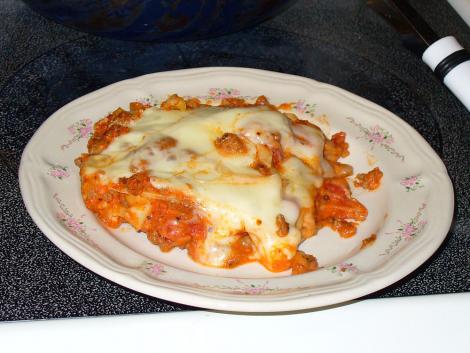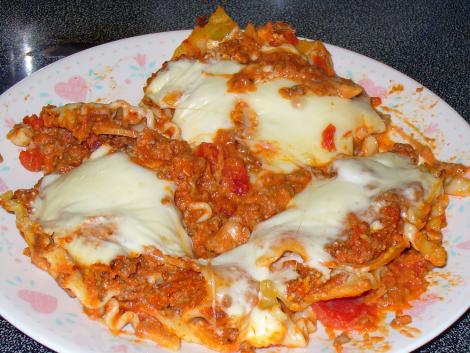 When I have leftovers, which I usually do because this is alot of lasanga... I put individual servings into ziplock sandwich bags and freeze them. To eat them from the freezer, put it on a plate, set it to auto-defrost for 1 pound, break it up with a fork and heat it again for another minute and it should be perfect.