Recipe
Sledge's Beef Chuck Steak Marinade

Instructions to make:
A marinade that can tenderize beef chuck steaks and other cuts.
Amount: Enough for 2+ steaks.
Ingredients:
- 1 cup corn oil (or vegetable oil)
- 1 tablespoon rice vinegar
- 2 tablespoons dijon mustard
- 3 tablespoon worcester sauce
- 1 teaspoon pepper
- 1/4 videlia onion sliced
- 1 tablespoon garlic powder
- 2 teaspoon salt
- 2 tablespoons brown sugar
Instructions:
1) Mix all the ingredients together in a bowl.
2) Rinse off two beef chuck steaks (or other cuts) and pat lighty with paper towels to take off some of the excess water.
3) Put your steaks in a bowl or in large ziplock bags and pour the marinade over the steaks. Flip the steaks a bit to make sure they are fully covered. Then either seal your ziplock bags or cover your bowl and refrigerate your steaks for at least 5 hours.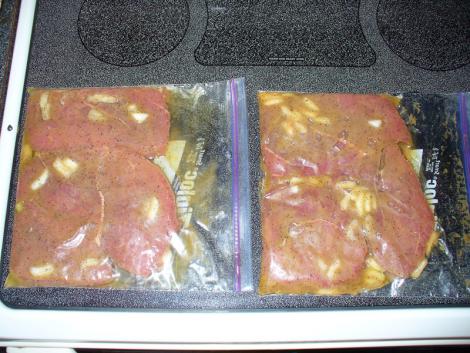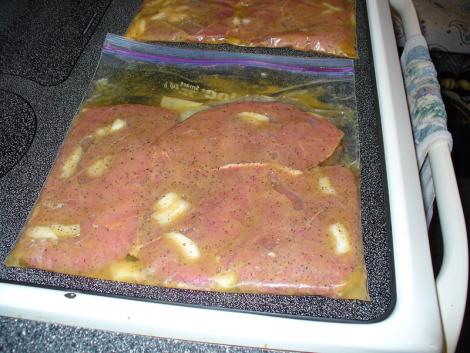 4) Cook your steak. I cooked mine at a high temperature on the grill for about 8 minutes or so. If you grill yours, be careful if you pour the leftover marinade on them, the marinade has a tendency to flare up some strong flames.
(The woman's plate, she likes hers well, well done.)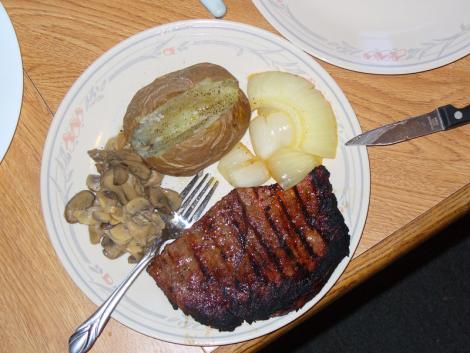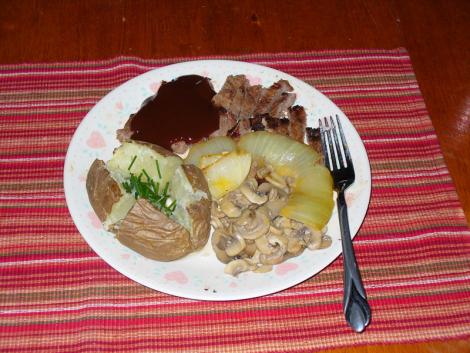 The steaks turned out quite tender for a beef chuck. There was still a little bit of chew to it, but not nearly as tough without marinade. If anything, let those steaks marinade over night or for 12 hours.