After I got an oil change done, my oil pan started leaking like a son of a bitch. Almost a quart a day. My friend Scott came over a couple days ago with his metal car ramps and we took a look at the problem. He found a couple pin hole leaks, at least they weren't too big. So we wiped the entire thing down with rags and sandpapered the area with the leak and put some quicksteel epoxy putty on it to seal the leak. It worked. It worked so good I decided to sandpaper the entire damn rusted oil pan and patch up every part that was rusted. Which was the entire front and bottom of it.
Heres some pics of what it looked like with the front part of it done. I didn't take any pics after I was finished because I so much epoxy on my hands I had to scrub them down with a steel wool pad. After that I didn't feel like even going back outside at that point.
Car on ramps: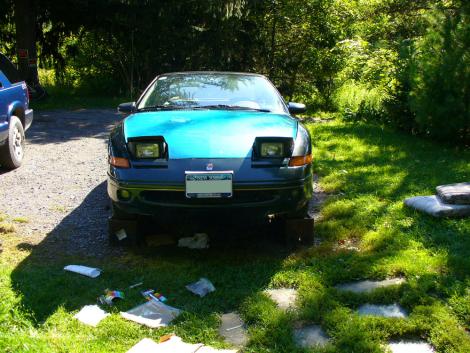 Shitty walmart ramps I'm returning. The pieces of shit started buckling under the weight of a saturn! WTF!? What a shit product.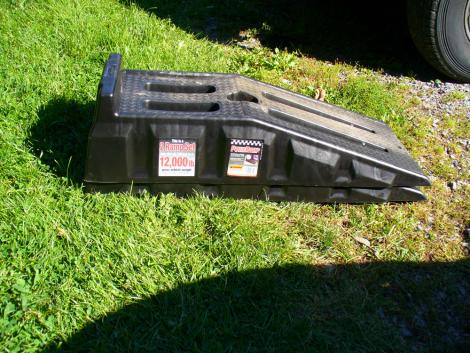 Old steel ramps: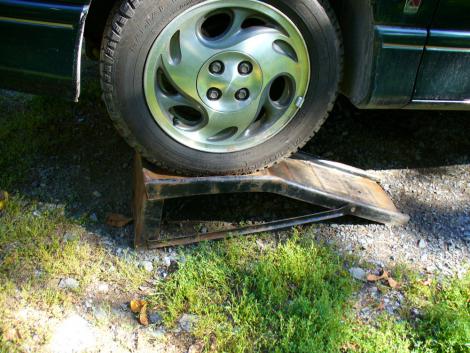 Me working on oil pan: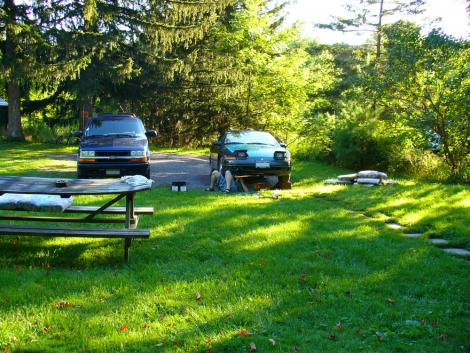 Patched Oil pan: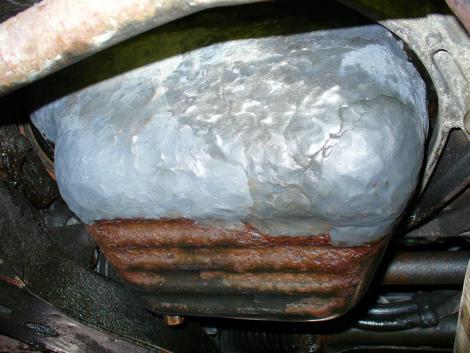 Quicksteel: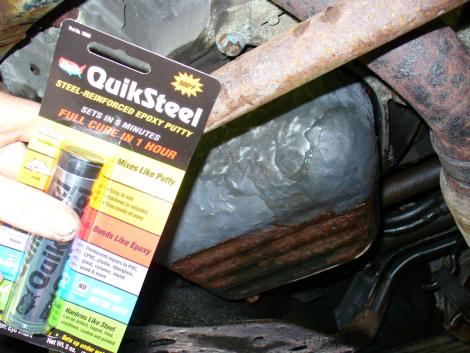 It took 7 tubes of quicksteel for the front, bottom and most of the sides of the oil pan, at least the part of the oil pan I had access to (the rest is over top other parts, thankfully it wasn't leaking in a place I couldn't reach).
If anyone reading this attempts this, make sure you only pinch of an inch of this stuff at a time, knead it up and press that crap on there good... Its a bitch to do, but it'll eventually bond with the metal. If you try to do half a tube at a time, it hardens up too fast to make sure all of it is sticking good to the metal. Take your time doing it and it'll be strong as hell.
Hopefully I won't get any more leaks but if I do have to eventually replace the oil pan, I made sure none of the epoxy is touching any other parts of the car and none of the epoxy is on any of the bolts holding it in place. I wanted to make sure I didn't screw myself more in the long run.
Also, its been 24 hours since I patched it up and no leaks!