Instructions to make:
St. Louis style ribs
Ingredients:
- Package of St. Louis style ribs - 2 to 3 lbs
- 1/2 to 1 bottle of KC Masterpiece Original BBQ Sauce
- 1/2 shot of Maker's Mark whiskey
- Tablespoon of honey
Instructions:
1) Boil your ribs in water, they'll boil faster if you keep it covered. Once the water starts boiling, boil the ribs about 15 minutes to a 1/2 hour until they are mostly cooked. Or all the way cooked if you want. For these ribs, I boiled them about a 1/2 hour until their internal temperature was 175 degrees. Pork is fully cooked at 170 degrees, so these ribs were already fully cooked before I put them on the grill. (I use my little meat thermometer all the time now.

)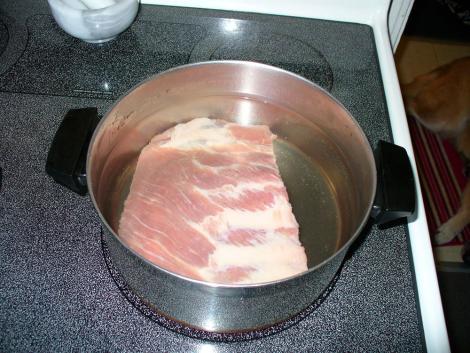 2) While the ribs are boiling, turn your grill on to start heating up and also, get your sauce ready. Usually I use just plain KC Masterpiece because when that sauce is cooked on the grill, alot of the moisture cooks out of the sauce and it thickens up perfectly for ribs. For this recipe, I used half a bottle of the sauce, squeezed in about a tablespoon of honey, and added half a shot glass of whiskey for a little kick. The alcohol will cook right out of the sauce, so it just adds flavor, like I said, a little kick.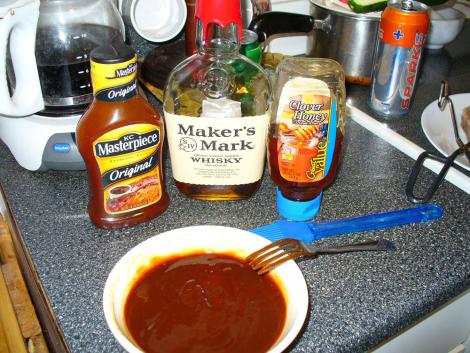 3) Once the ribs are finished boiling, remove them from the pot and let them cool off a little. You can refrigerate them for 15 minutes if you want, but I just let them sit out at room temperature about 5 minutes.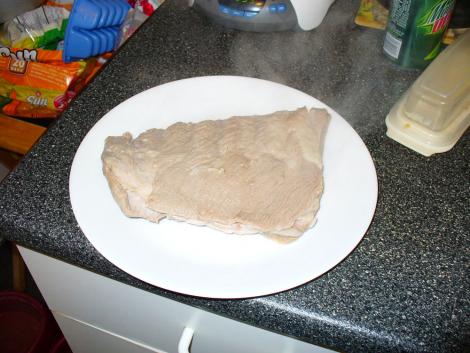 4) Now that the grill is nice and hot, turn off the burner you'll be putting your ribs over (left burner is off in this pic) and keep the other burner on high. This will let the ribs cook with indirect heat. Put your ribs on the top rack of your grill, coat one side, flip it and then coat the other side. Close the lid and let the grill heat up those ribs for a good 10 minutes.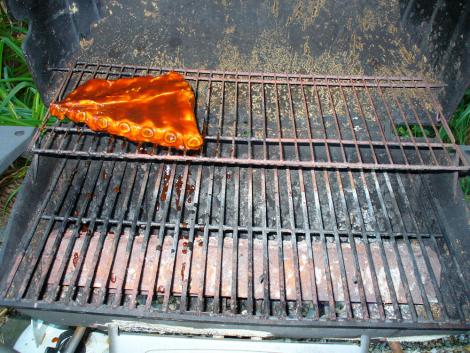 5) Flip the ribs over and this time, heavily coat the top with sauce, let it pool up on it so it'll be really thick. Close it up and let it cook another 10 minutes. Flip the ribs again and repeat another thick layer, this time turn on the left burner on low to add more heat. Keep repeating this process one or two more times if you have enough sauce.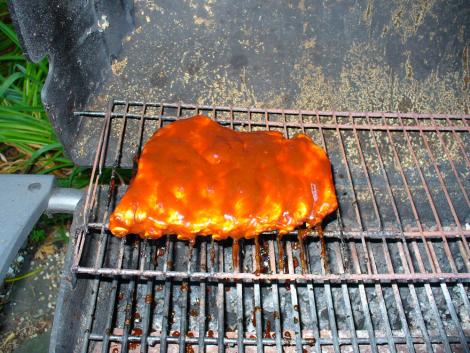 6) Take the ribs off the grill, the sauce should be really thick now. Let the ribs cool down a couple minutes before you cut them.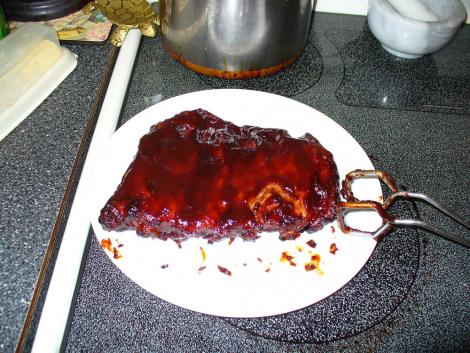 7) Look at those ribs. Enjoy!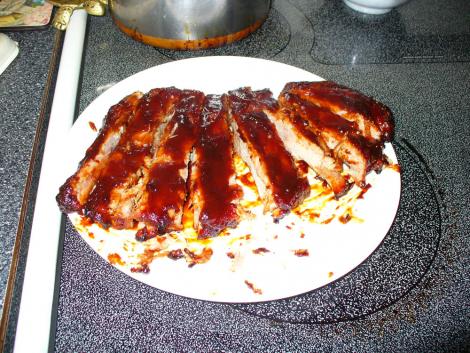 After eating these, the sauce does need a bit more sweetness to it. Add another tablespoon of honey or dissolve about a 1/4 cup of sugar into the sauce before putting them on the ribs.