Snacks
Doritos Locos Tacos Chips

With the highly successful Doritos Locos Tacos giving Taco Bell a huge boost in sales, Doritos decided to try and cash in on more of that revenue and hype with Locos Tacos flavored chips. I say "try" because thats exactly what these chips are good for. Trying once and never buying again. They come in two flavors, Nacho Cheese and Cool Ranch just like the Locos Tacos. In each bag there are two flavors. The flavored chip and the crunchy taco chip. Doritos has made other products two flavors in a bag on numerous other occasions and they never seem to work right at all.
You might wonder what flavor of chips are in this next picture, but it doesn't really matter because both bags when poured into bowls look and taste exactly the same. The Cool Ranch and Nacho Cheese bags basically contain the exact same product as I tasted no difference between them. If I had known they would be identical in flavor I would have only bought one bag.
These chips taste interesting at first but like all snack foods with multiple flavor coated items in them, there was no distinguishing if you were eating a nacho cheese, cool ranch or taco chip. All the flavoring basically mixes together in the bag and the result is a taco flavored chip that noticeably tastes more like broken taco shell pieces with Dorito flavoring than a taco flavored chip. They're not that bad, but not amazing like the Doritos Locos Tacos they are named after.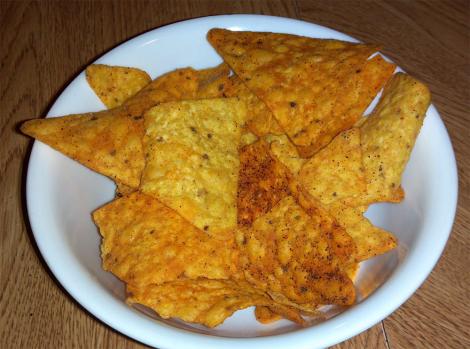 I had so many of these chips because I had two open bags that I lost interest in the flavor and decided to use them in soft tacos to try and get some Locos flavor in a home made meal. This is when I realized these chips tasted much better with actual tacos. If anything, these chips would be a good companion chip for a taco dip. But as a stand alone snack they don't seem to hold their own.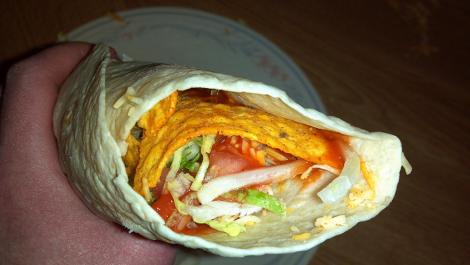 Should you eat these?
Sure. Try them once to see how they taste, but don't worry about which flavor you buy because they all taste the same. If anything, I recommend buying one bag of the original regular Taco flavored chips and one bag of Cool Ranch or Nacho Cheese. Then eat two chips at once, Taco and the flavored one. That would taste far superior than the flavor of these Locos Tacos chips.
What Doritos and Taco Bell should do is sell the actual Doritos Locos Taco shells in the supermarkets. Forget these chips, instead sell those shells. Whenever I'm at the store, I always pass on buying Taco Bell shells in favor of the superior Old El Paso brand. But if Taco Bell wants to make more money, they should work with Doritos and bring these shells to the stores. I'd buy them in a heartbeat for my own home made tacos.