Cheetos Mix-Ups Cheezy Salsa Mix

I saw these at the store a couple weeks ago and decided to try them out. Cheetos Mix-Ups Cheezy Salsa Mix sounded like a nice mix of heat that would give my taste buds a good work out. Unfortunately, they left much to be desired. While the packaging looked great and the claim of hot spiciness lured me in, these cheese poofs did not deliver.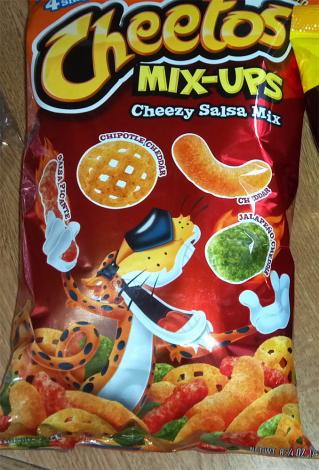 Upon opening the package the smell was odd. A weird combination of aromas that I was not expecting. This product features 4 different flavors, Cheddar, Jalapeno Cheddar, Salsa Picante and Chipotle Cheddar.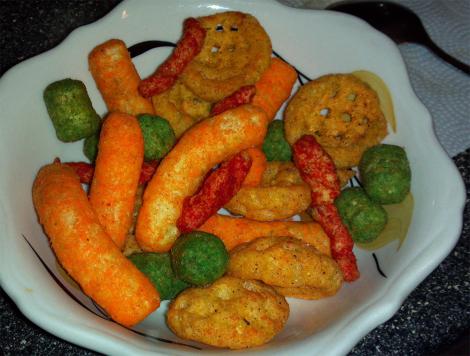 I'm a fan of the Cheetos Puffs and Crunchy Cheese Flavored Snacks, but this "Cheezy Salsa Mix" was disappointing. First off, because this bag features 4 flavors, all of the residual seasoning is coating all the individual flavors. The normal Cheddar Puff is coated in such a mess of flavoring that it tastes nothing like a normal cheddar puff. Thats one flavored ruined. Next up is the Jalapeno Cheddar.. the little green ones.. when eating jalapeno, I expect a bit of heat, but these puffs had nothing but a mild hint of jalapeno flavor. As for the Salsa picante.. based on the packaging, I was lead to believe these would be the hottest puffs. But no, while they had a nice flavor, there was no heat. At all. A single drop of tabasco sauce is hotter.
The only thing this bag of snacks had to offer what the Chipotle Cheddar puffs. This was the most unique flavor I have tasted in a snack in quite a while. Unfortunately, the texture of this puff was horrible. The waffle shape along with the size of the bite wasn't all that great. In fact, I'm not entirely certain if I would like it as a separate product because of all the other flavors in the bag skewing my tastes.
Should you eat this?
No. I will not buy another bag of these and I don't recommend you even try them. It claims to be spicy, but this is not spicy at all. I did not care for this mixture of flavors and textures whatsoever. However, if Cheetos made the Salsa Picante or Chipotle Cheddar puffs into crunchy versions sold separately, they might have a decent product.