Lay's Sriracha is one of the three new Lay's potato chip flavors available as part of the "Lay's Do Us A Flavor" contest. I haven't had the chance to try the other two flavors, but I did get my hands on a bag of these.
I have to admit.. I have never tried Sriracha sauce before so I have no idea just how spicy the sauce is by itself. I've heard that it is intensely hot and based on the picture on this bag I can only assume its going to be extra spicy.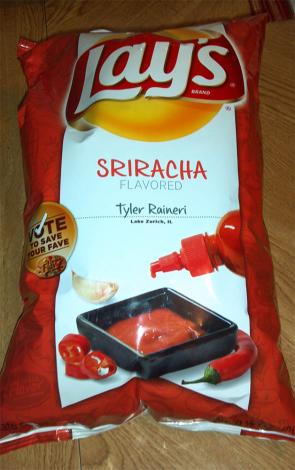 The chips themselves are a bit reddish in color compared to regular Lay's. They smell very mild and not powerful enough to indicate any real heat. The flavor is the regular salty lays taste with a nice heat that hits lightly and then burns the tongue a bit. After about 5 chips or so the burn is a bit more noticeable and at its maximum heat. I didn't notice any back of the throat burn or "creeping up on you burn" like you would normally get with cayenne pepper so i can only assume these chips are more mild in heat intensity compared to actually dripping Sriracha sauce directly onto regular lays chips.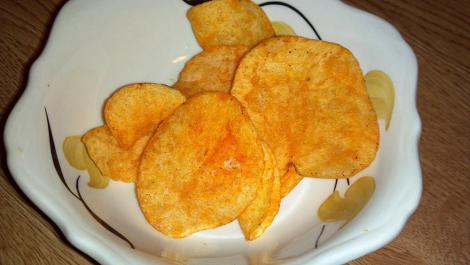 Should you eat these?
Yes. If you want to try a new kind of spicy potato chip, give these a try. But don't expect them to be the hottest chips out there.