Recipe
Sledge's Smoked Dry Rub Pork Spare Ribs

Instructions to make:
Sledge's Dry Rib Rub and how to cook some pork ribs with a dry rub, smoke and no sauce!
Serving size: 1 (or more if you cook more ribs)
Ingredients for dry rib rub (enough for probably 2 or 3 medium sized racks of ribs)

- 1/2 cup of paprika
- 1/4 cup fresh ground black pepper
- 1/4 cup salt (or fresh ground salt)
- 2 tablespoons of onion powder
- 2 tablespoons of garlic powder
- 2/3 cup of firmly packed brown sugar
And of course to smoke cook your ribs on your grill you'll need:
- 1 1/2 to 2 1/2 pounds of pork spare ribs
- A couple handfuls of flavored wood chips
- A cast iron smoke box for your wood chips
- A piece of aluminum foil
Instructions:
1) Gather your ingredients for the rub and add them put them all into a bowl.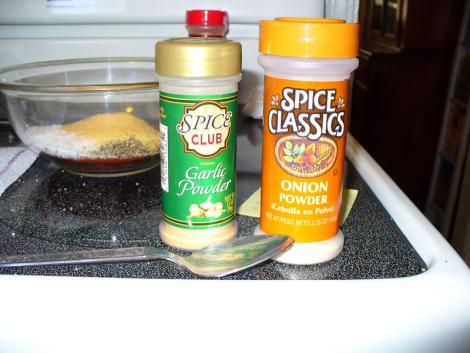 2) Mix all the rub ingredients together. Its best to mix it with your hands, a fork, spoon or whisk just wont work as good.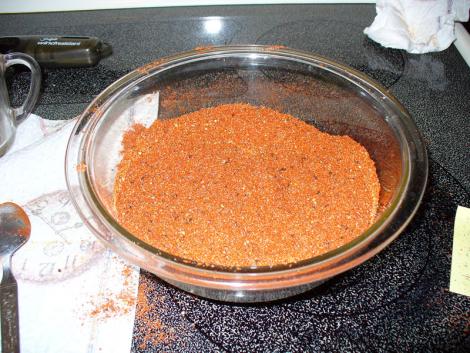 3) Rinse off your ribs and then pat them dry with a bunch of paper towels.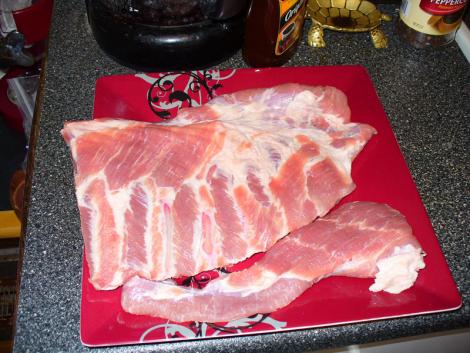 4) Use one hand to grab rub and drop it liberally onto both sides of your ribs, and then use your other hand to rub it in. This way if you have extra rub left over you can save it in a baggie and refrigerate it without any contamination from touching the pork. If you don't plan on saving leftover rub, just dump it all over your ribs and put it on thick! You'll want to let it really permeate the ribs now. Cover it with plastic and refrigerate it, or if your ribs are still cold from the refrigerator, let them sit on the counter for a half hour or so while you warm up the grill and soak your wood chips.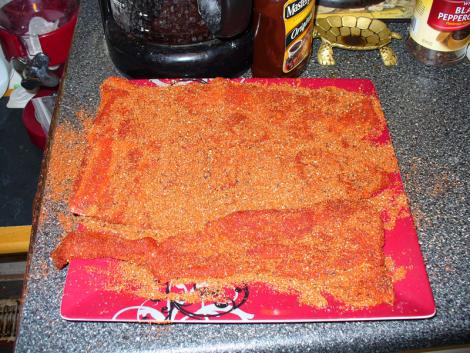 5) Put a handful or two into a bowl of water and let them soak for about a half hour. You can also turn on your grill and let it start heating up.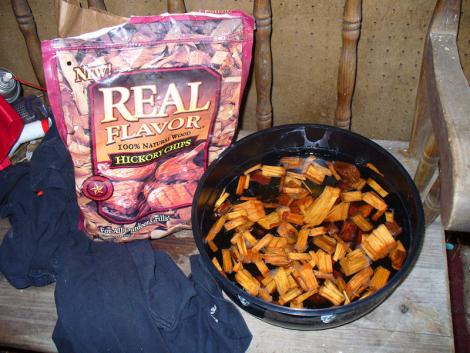 6) Now that the grill has heated up, put your smoker box on the far right side. Grab a handful of wet wood chips, let the wood chips drain for a minute in your hand and then put the wood chips in the smoker. Not too many tho! Those wood chips need air to burn once you put the lid on. Also, turn off the left burner. You do not want to cook your ribs over direct flame. And turn the right burner down to about a medium flame.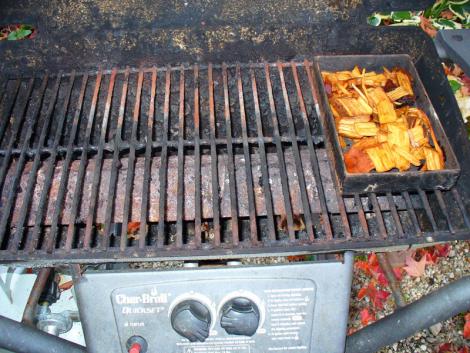 7) Before you put your ribs on the grill, lightly tap the ribs on its sides to get any excess rub off. Excess rub will look like dry patches of rub if as long as you let it soak into the ribs like I said. Now put the lid on your smoke box and put your ribs on the grill.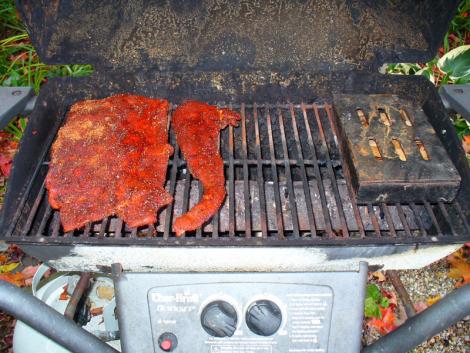 8) Look at those ribs one more time because you won't be looking at them again for a while Close that grill and walk away for an hour. Within a half hour you'll probably see a light smoke coming out of the grill, you shouldn't have any flare ups because the ribs are not over direct heat. And by leaving the grill down for a full hour the grill will be cooking more like an oven and the smoke from the smoke box will circulate inside the grill filling the ribs with more flavor.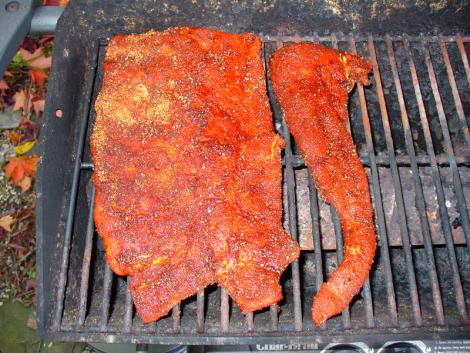 9) An hour later, I flipped the ribs and added another small handful of fresh chips to the now fully burnt looking chips inside the smoke box. And now close that grill and let it cook for 1 more hour.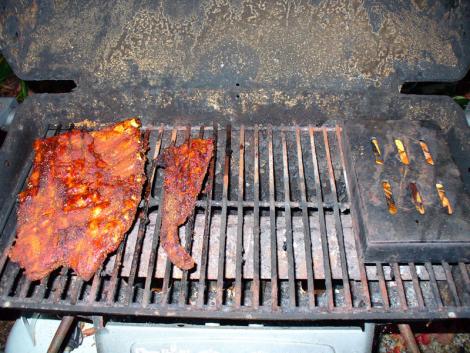 10) After two hours of total cooking time, your ribs should be fully done. You can check with a meat thermometer, pork is well done at 170 degrees. When you take the ribs off the grill, immediately wrap them in aluminum foil and let them sit on a plate for a good 15 minutes. This lets the ribs reabsorb their moisture and allows more flavor to fully saturate the meat. If you don't wrap it in foil, the moisture will evaporate and collect on the plate. So wrap it!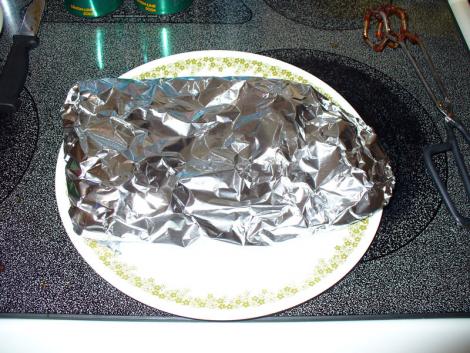 11) After 15 minutes, look at those ribs!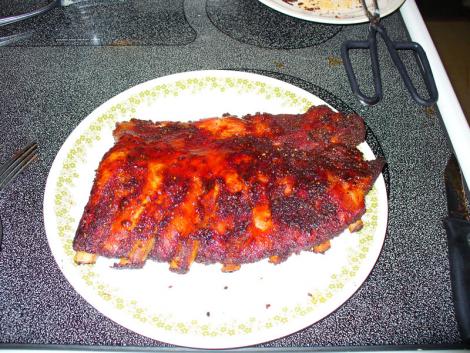 12) Cut them into portions and look at the juicy results!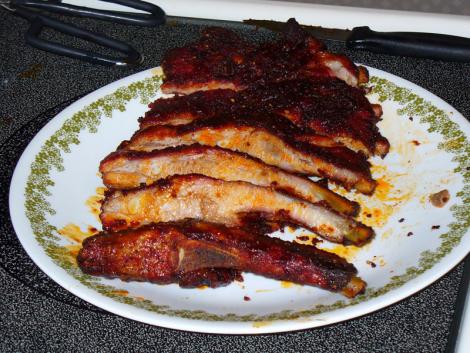 13) Feel free to use a sauce on the side, but these ribs have all the flavor and tender flavor you need!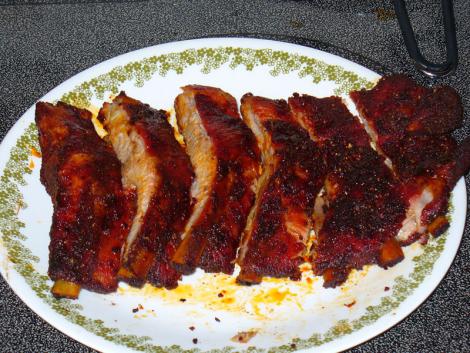 14) Eat!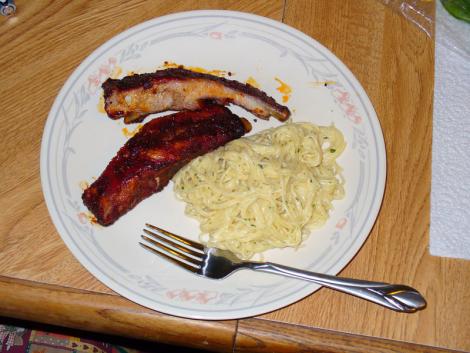 This rub is a good sweet and spicy mix, but next time I cook ribs like this, I think I'll use a full cup of brown sugar to sweeten the rub a bit more. These ribs turned out quite good, but I think I still prefer my other rib recipe over this one... probably because its less time consuming and easier.

Heres a link to my other rib recipe: