Instructions to make:
2-3 rolls of sushi
Ingredients:
- Sushi Rice - 2 cups
- Nori (Seaweed sheets) - 2-3 sheets
- Rice Vinegar -
- Sliced carrots - 1 package
- Avocado - 1x
- Cucumber - 1x
- Shrimp or imitation crab meat - 1 small package
Instructions:
1) Put two cups of rice in your rice cooker and fill the rice cooker to the "2" line with water, put lid on and set the rice to cook. Remember to leave the lid on the rice cooker through the duration of the cooking and and additional 15 minutes after the rice cooker switches over to 'warm' to ensure the rice fully cooks.
2) While the rice is cooking, prepare your cooking area, get your sushi mat ready, take your nori out of the package so it can air out a bit. Peel your cucumber and slice it into thin length wise pieces (preferably discarding the seed portion or the cucumber but that is not necessary). Peel your avocado and also slice into length wise pieces but keep the avocado thicker for it's texture. Also rinse off and peel your shrimp/crab meat.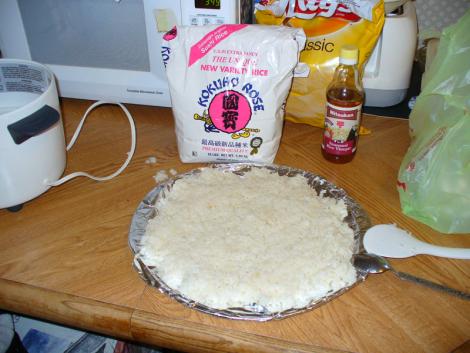 3) After the rice is done, you have to add 1 tablespoon of rice vinegar per 1 cup of rice. Since 2 cups of uncooked rice = 6 cups of cooked rice, add 6 tablespoons of rice vinegar to the rice in the rice cooker and fold the rice to mix evenly. Don't crush the rice while folding the vinegar in! Once mixed together, spread the rice out onto a pizza pan or something else covered in aluminum foil. I cover a pizza pan with aluminum foil because it gives you a flat surface for the rice to cool on and it makes cleanup a lot easier.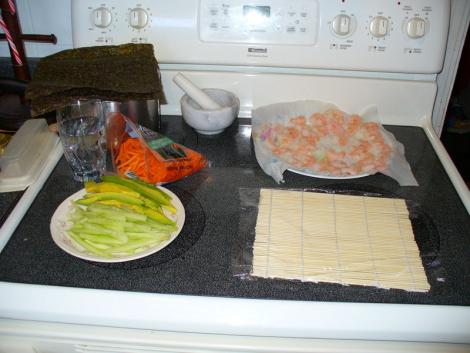 4) Let the rice cool down for a while and finish any other prep work you have to do. Also, place a piece of clear saran plastic wrap on your sushi mat (makes rolling the sushi easier and less messer, also easier clean up). Place your nori, shiny side down on your sushi mat and spread sushi rice in a thin layer on most of the mat. Leave about a half inch at the top of the nori rice free so the roll can stay together.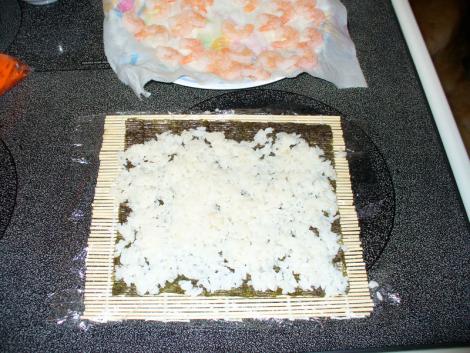 5) Place your ingredients length wise at the bottom of your sushi roll. Use a couple large pieces of avocado, a bunch of cucumber, carrots, shrimp/crabmeat, whatever you want to use. Its ok if things overlap too, but you don't want to use much more than what is in this pic or your roll might start falling apart while you cut it or when you pick up the individual pieces.
6) Next, roll the sushi carefully from the bottom up. Apply some light pressure while you roll and tuck the ingredients in with your fingers if it starts falling apart or not staying in place while you roll it.
7) Roll it back and forth a little bit and squeeze the roll slightly while wrapped up in the mat to get everything kind of solidified together. Not to hard tho, you do not want to crush the rice and ruin the texture.
8) The top of the roll had that little empty 1/2 flap of nori, wet your finger and apply a moisture to that flap and push it against the roll. This will make that little flap grip the roll and keep everything together.
9) Place your roll of sushi on a cutting board and use a sharp wet knife to cut your individual pieces. Sushi rice is extremely sticky, you will need to run your knife under water and gently wipe off any stickyness or rice off your knife before cutting each piece. Cut the pieces to the thickness you want, if the sushi starts falling apart on you while you cut, cut slightly larger pieces or clean your knife/wet it more. Let the knife be pretty much dripping wet even while you cut for easier cutting. The end pieces look ugly but are still edible. I usually give them to my kid or eat them myself before presentation.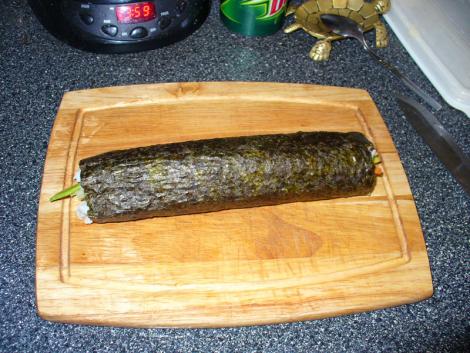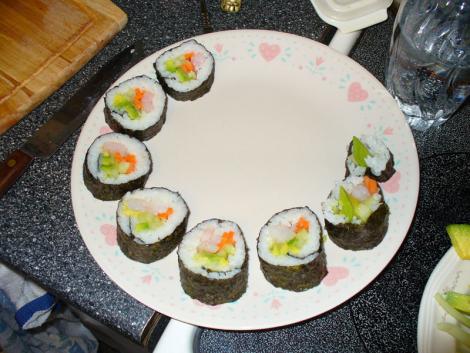 10) Next roll. Repeat steps above. Notice I used more shrimp? mmmmm.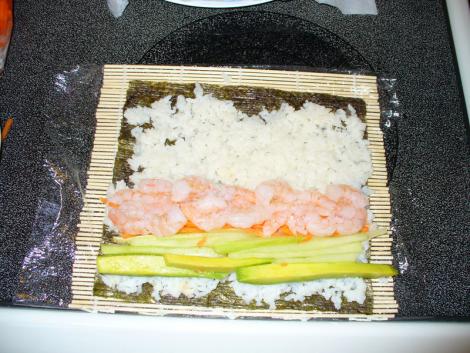 11) This is the amount of leftover rice I had. I'm pretty certain I made three rolls with 2 cups of uncooked rice, but I probably ate it while making the other two rolls I took pictures off. (I can't remember.)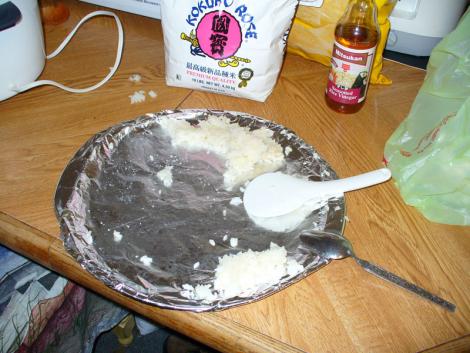 12) Finished sushi with leftover ingredients. As you can see, you shouldn't waste your time cutting all of that 1 cucumber and 1 avocado like I did unless you have a guinea pig that likes leftover cucumber like me.

Probably half a cucumber and half an avocado is plenty for 2-3 sushi rolls.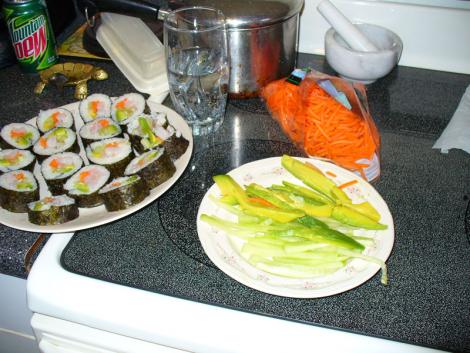 13) Finished sushi pics! Eat and enjoy!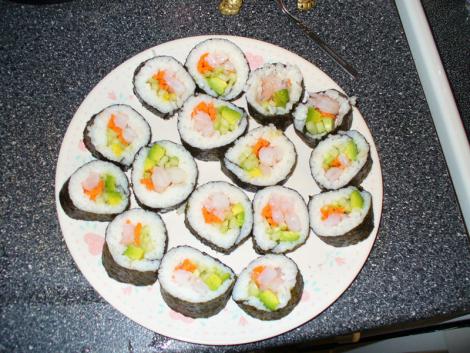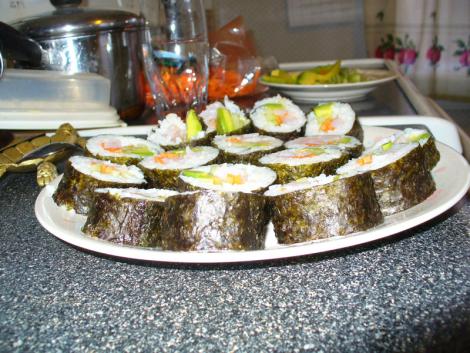 Don't forget you can use a little wasabi sauce or soy sauce or mix them together a bit for dipping your sushi. I sometimes use duck sauce because soy sauce usually tastes too salty for me just like wasabi is way to friggin hot. I'd rather taste the sushi and the different textures in it than have the dipping sauce overtake my pallet.
Pickled ginger is usually served with sushi, but its mainly used to 'reset' your taste buds when you have a variety of sushi on your plate. Its best to eat a little piece of ginger inbetween different pieces of sushi or sashimi to fully enjoy the taste and texture of each different piece. If all your eating is just the one sushi roll like I have made here, I'd pass on the ginger and just enjoy the flavor of the sushi.